FLARECAST
Flare Likelihood And Region Eruption foreCASTing
THE FULLY AUTOMATED SOLAR FLARE FORECASTING SYSTEM
A Horizon2020 PROTEC (Protection of our Assets in Space) Research and Innovation Action
THE SUN NOW: SAMPLE NEAR-REALTIME DATA FROM THE SDO AND GOES SATELLITES
A solar flare is a flash of brightness on the surface of the sun. During a flare a huge amount of energy (up to a billion hydrogen bombs) is released, heating the solar plasma, accelerating particles and propagating into space. Big flares and other manifestations of eruptive solar activity are the main drivers of space weather near the Earth. – After 8 minutes, a flare may cause radio blackouts. – After 20 minutes, a flare may cause a solar radiation storm. – After 2-4 days, a flare, followed by a coronal mass ejection, may cause a geomagnetic storm. Solar flares can affect satellite operations, aviation and communication technologies.
Until recently, solar activity wasn't considered a notable threat for our planet. Since the end of the 20th century, however, we have become more vulnerable due to space-relying technologies our society depends on. Should a very strong solar storm hit the Earth, it may not only cause damage to space-based technology but also to communication systems, transportation networks, pipelines, and power grids on the ground. Reliable space weather predictions are vital for taking mitigation measures in time.
The FLARECAST consortium developed an automated forecasting system for solar flares. The team integrated virtually every solar flare-predicting parameter into an open online application programming interface, flexible enough to facilitate future expansion. We identified the best performers by employing a variety of statistical and machine learning techinques, including standard methods such as Linear Discriminant Analysis, Clustering and Regression Analysis, Neural Networks, as well as innovative approches including Multi-Task Lasso, Simulated Annealing and Random Forest. A robust exploration work package identified promising new predictors and connected flare prediction to other manifestations of solar eruptive activity such as coronal mass ejections.
WHAT WOULD YOU LIKE TO SEE ON THE NEXT FLARE PREDICTION USER INTERFACE?
A custom visual outcome oriented both towards the average and the scientifically inclined user, served by a robust administration management.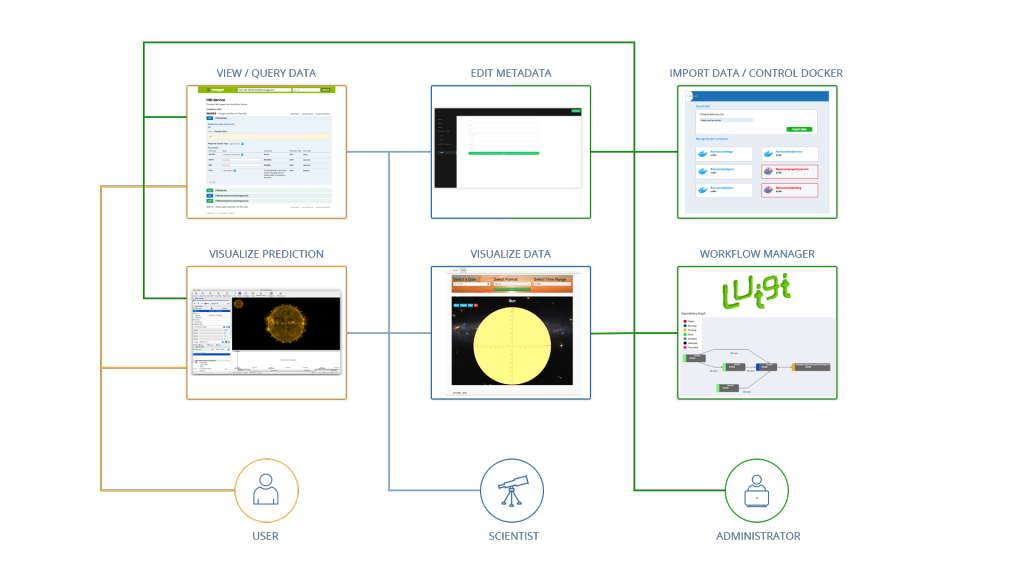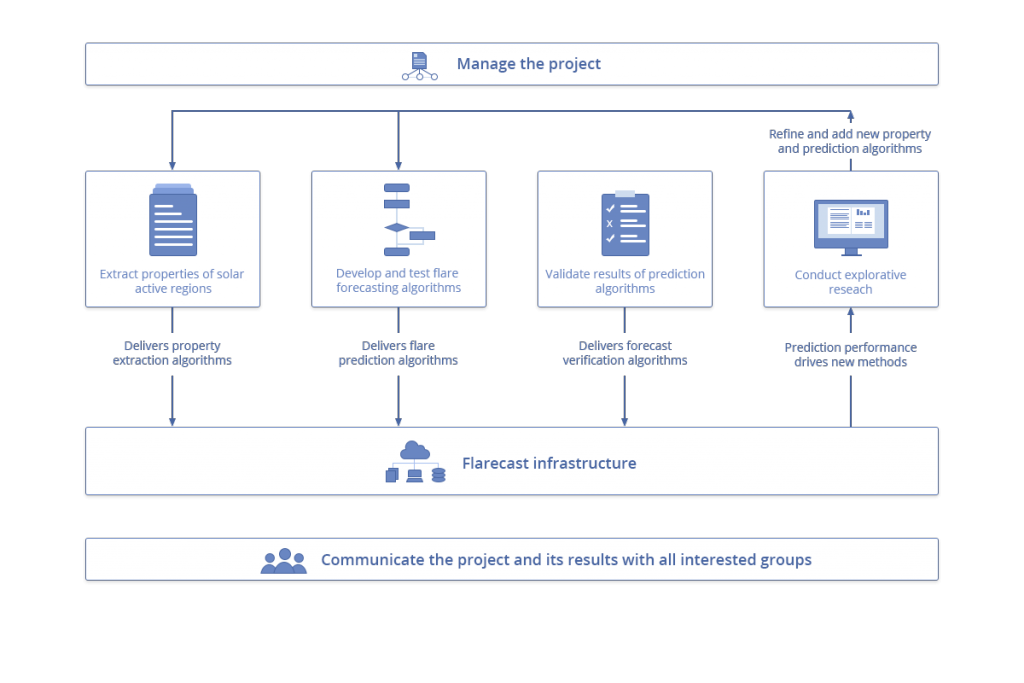 THE FLARECAST TEAM
The backbone of the FLARECAST concept was the fusion of diverse expertise at the service of an optimal solar-flare prediction. Besides employing European expertise in solar physics, the consortium comprised experts in machine learning and artificial intelligence, big data handling, software engineering and programming, as well as hardware technicians and maintainers.
A distinct but equally important component of the FLARECAST project was dissemination, education and public engagement.  The public outreach programme, led by an outreach professional, engaged the public in observation activities, citizen science projects or space weather forecasting using near-realtime data. Dissemination to stakeholders from industry & government relied on the expertise of the UK national forecasting agency, the MET Office.
FLARECAST FACES AND VOICES (20 out of 28)
CONSORTIUM MEMBERS
| | | | |
| --- | --- | --- | --- |
| | Academy of Athens, Greece | Coordinator, flare predictors, explorative research |  Email |
| | Northumbria University, United Kingdom | Project scientist, flare predictors, validation |  Email |
| | Trinity College Dublin, Ireland | Flare predictors, validation, explorative research |  Email |
| | Universita Degli Studi Di Genova, Italy | Algorithms, infrastructure |  Email |
| | Consiglio Nazionale Delle Ricerche, Italy | |  Email |
| | Centre National de la Recherche Scientifique, France | |  Email |
| | Université Paris-Sud, France | |  Email |
| | Fachhochschule Nordwestschweiz, Switzerland | Infrastructure, validation, public engagement |  Email |
| | Met Office, United Kingdom | Validation, dissemination |  Email |
MORE EUROPEAN SPACE WEATHER PROJECTS